Leadership Update

It has been six months since our last newsletter and what a challenging six months it has been. It is hard to even begin to contemplate the many ways the pandemic has altered our research ambitions, let alone our personal lives, with many of us juggling all our regular obligations with childcare, home schooling, online teaching, and the various other aspects of our day-to-day routines that have been upended. We wish you and your families good health and fortitude in the coming months as we wait for our places in line for vaccinations.
The Arctic and boreal domain is, as you all know, the most rapidly changing region on Earth and the changes underway there have global implications. This is ultimately what ABoVE research has been and remains all about. The work we are collectively engaged in is especially relevant to the climate goals of the new US administration. It has the potential to not only advance our understanding of the changes that are underway, but to capture the mechanisms of those changes in models, and ultimately to help mitigate the impacts by informing management and policies that better prepare us for the inevitable – as well as the avoidable - implications. We have known this for some time but it has become increasingly obvious – and well documented – year after year. You may remember the overarching ABoVE science question is How vulnerable or resilient are ecosystems and society to environmental change in the Arctic and boreal region of western North America? This question has become ever more important over recent years, since ABoVE officially kicked off with initial data-oriented ("pre-ABoVE") projects in 2013, followed by phase-I projects in 2015, and initiation of phase-II in 2019. The last six months and past four years have further focused our attention on the need to address the science questions and objectives of ABoVE research.
We hope that by the time of our next newsletter the pandemic will have waned, while the outcomes of ABoVE research continue to climb and reach an even broader audience. We appreciate all that you have done and continue to contribute to our collective effort.

– Scott, Chip, Peter, Libby, Liz, Mike and Hank
Airborne Campaign and Associated Field Work in 2021

We are beginning to assess the prospects for L-Band SAR and AVIRIS flights in Alaska and Canada to be conducted during the months of July and August. We are currently reaching out to the NASA-funded investigators and their collaborators to better understand their plans and concerns. We still have the 2020 plan in hand and will modify it as necessary to accommodate 2021 changes. The requirements for field work in both Alaska and Canada remain very fluid. We will keep everyone informed as our understanding of the overall situation improves. In other words, Stay Tuned!
ABoVE Science Team Meetings in 2021

| | |
| --- | --- |
| 1) | Please plan on a virtual meeting held during the week of May 10. Our current notion is to have sessions on Tuesday and Thursday of that week where the focus will be on plans for the field season and airborne remote sensing; partner presentations; Working Group updates; and the ongoing Synthesis Activities. We should also be able to accommodate early-career poster walks and maybe a social hour or two. |
| | |
| --- | --- |
| 2) | We are also considering an in-person ABoVE Science Team Meeting and Research to Operations Workshop in Fairbanks, Alaska, sometime in late September or early October. |
Stakeholder Engagement

In our last newsletter, we reported on our occasional webinar series focused on environmental/climate science in Yukon, Canada. This series continues (and recordings of prior events are available), and we're pleased to announce that we have expanded our offerings to create another webinar series focused on the Northwest Territories. Co-sponsored with Government of Northwest Territories' Knowledge Agenda, these webinars serve as a venue to share data and information about ABoVE research with the broader community, and for all to learn about other research and activities in the territory/region. These webinars have been successful in helping members of the ABoVE community maintain connections with stakeholders and other researchers in the territories given the challenges of the global pandemic. We are always looking for new presenters, whether directly associated with ABoVE or from our Canadian/tribal colleagues, and are in the planning stages for creating an Alaska-focused series as well. For more information, please contact Libby Larson.
ABoVE at AGU

Many of us probably had some trepidations along with excitement as AGU moved to an entirely virtual format for this past December, but it seems that whatever technical hiccups may have occurred, participation in ABoVE-related sessions was substantial and enthusiastic. Prior to the meeting, the Carbon Cycle & Ecosystems office compiled a list of sessions of interest, including "The Resilience and Vulnerability of Arctic and Boreal Ecosystems to Climate Change," convened by Abhishek Chatterjee, Scott Goetz, Peter Griffith, Michelle Mack, and Natalie Boelman. One of the largest sessions in AGU's Biogeosciences section, it had four oral sessions, one eLightning session, and one poster session, for a total of 69 presentations. To further enhance interactions, Abhishek and Peter also organized a special pod for a poster "walkthrough" held on Monday 12/14/20.
Another session at AGU entitled "Science to Action: Transformative Partnerships and Knowledge Coproduction to Advance Decision-Relevant Science" was convened by Libby Larson in conjunction with Colleen Strawhacker (NSF program manager for Arctic System Science and Arctic Social Sciences), Melissa Varga (Science Network and Community Partnerships Lead for Union of Concerned Scientists), and Julian Reyes (AAAS Science and Technology Policy Fellow for the US Dept. of State). While broader in geographic scope than the ABoVE session, presenters included several names that are probably familiar to the ABoVE community, including JJ Frost, Alison York, and Katrina Bennet. Have a look at the entire session for insights on how scientists build and strengthen partnerships with community members and other stakeholders and for examples of co-production of knowledge where multiple types of knowledge, including Indigenous Knowledge and western scientific disciplines are combined.
An AGU Innovative Session titled "Connecting Remote Sensors with Ground Sensors Through the Lens of Relationships, Respect, and Responsibilities" was convened at the Fall Meeting by Peter Griffith and Bonnie Murray, a NASA Education Specialist with NASA ESTEEM (Earth Science, Technology and Energy Education) and MUREP (Minority University Research and Education Project). The other conveners were Dan Hikuroa, a Maori and scientist from the University of Auckland, New Zealand, and Bill Thomas, a Native Hawaiian and scientist with NOAA in Honolulu. We were honored that Dr. Thomas Zurbuchen, NASA's Associate Administrator for the Science Mission Directorate, recorded a welcome greeting for the panelists and attendees, which you can view here. The opening prayer was given by Mandy Bayha, the Director of Language, Culture, and Spirituality for the Government of Délı̨nę, Great Bear Lake, Northwest Territories, who many of you know from her past participation in ABoVE Science Team Meetings. The session featured pairs of 1) Traditional Knowledge (TK) holders talking about their land and waters and the challenges they face on a changing planet, with 2) scientists that the TK holder is working with who are providing insights gleaned from airborne or satellite remote sensing. The emphasis was on ongoing partnerships where remote sensing and Traditional Knowledge are complementary and synergistic, and together can help us address local and global environmental challenges for the benefit of all living things.
ABoVE Summer Internships

Photo Credit: clockwise from top left: Shannon Reault, Jeralyn Poe, Peter Griffith, and Elsa Yoseph during the 2020 internship closeout presentations.
While COVID-19 brought disruptions across the map, NASA internships continued on, although in a virtual format. Three summer interns for ABoVE partnered with the Carbon Synthesis Working Group, and were mentored by Liz Hoy and Abhishek Chatterjee. All three interns presented their results during a closeout webinar in August 2020, and later presented their research as posters during the AGU Fall Meeting. New internship opportunities for NASA ABoVE will be posted shortly, so stay tuned for more information in an email to the ABoVE distribution list. Once opportunities are posted, they can be explored here: https://intern.nasa.gov/.
IBFRA 2021

Building on momentum!
More than 100 abstracts have been pouring in over the past two weeks, and we want to build on the great momentum!.
We are extending the deadline for abstract submission to February 22nd.

Scientists, managers, policy makers and civil society working in the boreal regions of the world: we invite you to join the IBFRA 2021 virtual conference and share your work with an international, interdisciplinary, and multi-cultural community. Students and early carrier scientists, you are the manpower and living force of research development and outreach! So be warmly invited and encouraged to submit an abstract and discuss your research ideas with your peers.
1st, 2nd and 3d best oral and poster presentations will be rewarded $1000, $500 and $250 prizes respectively.
Our program is now online! In addition to the session's presentations and discussions, we will have art exhibits, workshops, poster sessions, panel discussions and - maybe - a virtual field trip! With chats and online meeting rooms for smaller group and back-to back discussions we aim at bringing the interaction close to an "in person" conference experience.
So - if you haven't consider joining the IBFRA 2021 conference yet, now is the time! To submit an abstract, click the button below to get started.
Important dates:

New abstract submission deadline: February 22nd 2021
Notification of acceptance: March 15th 2021
Registration deadline: August 10th 2021

While you are at it, you can register to the conference by clicking the button below.
Please share this message widely.
If you have any questions about partnering or participating in IBFRA 2021 please contact us at ibfra2021@gmail.com.
Sites and Products for ABoVE – please update!

In order to plan a coordinated campaign, ABoVE investigators have asked to know where and when each other are working, and what data products are being created and archived. There are tools on the ABoVE website (and tool tutorials) so that investigators can update their information. See an overview of the ABoVE data workflow here.
Update Your Sites and Measurements!
Although field work for summer 2021 has yet to be determined, some of you may have automated measurements that are still being collected. ABoVE investigators who plan to collect field data in 2021 should update their data collection events using the ABoVE Sites and Measurements Tool. View our video tutorial.
Update Your Data Products!
ABoVE investigators should use the ABoVE Project Profile Update Tool to create metadata records describing planned data products for publication, integration, synthesis, and modeling. View our video tutorial. There are currently 287 products listed in our database (https://above.nasa.gov/profiles_/above_products.html).
Archive Your Data!
Archiving (and thus publishing) data is an essential part of science team membership (see ABoVE Data Policy). Data products created with NASA funding are archived at a NASA archive center (e.g. ORNL DAAC). When you submit data, ORNL DAAC staff will perform quality checks on the data, write documentation, and assign a permanent DOI and citation to your data, allowing you to track its re-use. A guide to publishing data is available, as is information on Best Practices for Data Management. Start your submission to the ORNL DAAC today.
Data Usage
Published ABoVE data archived at ORNL DAAC have been accessed a total of 24,215 times by a total of 6,148 unique users (identified by IP address) since January 2015. A total of 121 field, airborne, and modeled data products from ABoVE research are now available from the ORNL DAAC. ABoVE datasets have been cited 54 times by other publications thus far in the campaign. Browse ABoVE data at the ORNL DAAC. As a reminder, the LVIS data collected for ABoVE are available from NSIDC DAAC and UAVSAR data are archived at the Alaska Satellite Facility.
---

The three most-downloaded ABoVE datasets in calendar year 2020 were:


The three most-downloaded ABoVE datasets of all time are:


Have you started using the ABoVE Grid yet?
Everyone creating geospatial data products should facilitate synthesis and modeling by using the ABoVE: Study Domain and Standard Reference Grids, Version 2. This grid was downloaded 368 times in 2020, and 984 times since the campaign started. If you haven't taken a look already, please check it out now!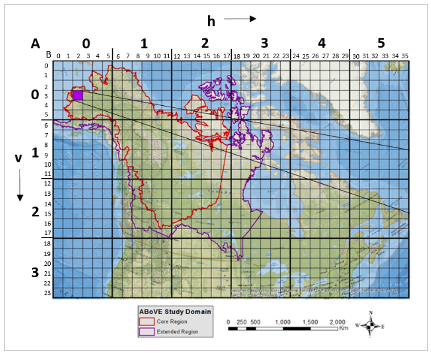 ABoVE study domain and reference grids

Recently-published ABoVE data:

New Projects

10 New ABoVE Projects Joined in 2020

New Publications

61 New Publications in 2020
Science Cloud Data

Multiple large data collections available

Data Products

24 Archived Products in 2020
NASA Stories and Media Coverage

ABoVE has been getting a lot of attention in the Media and NASA's news team. Check out what has been covered!
ABoVE Jobs

Multiple job openings with ABoVE Projects. If you would like to post a position, email support@cce.nasa.gov.